Sought after for their soft needles and excellent, full shape, our Douglas Fir Christmas trees will bring an elegant look to your Holiday decor. Grown on a plantation in Northern Pennsylvania and harvested in small batches throughout the season, your tree is brought to you at the peak of freshness. Fill your home with the strong, distinctly sweet, citrus aroma of a Douglas Fir.
Proudly Grown in Pennsylvania, USA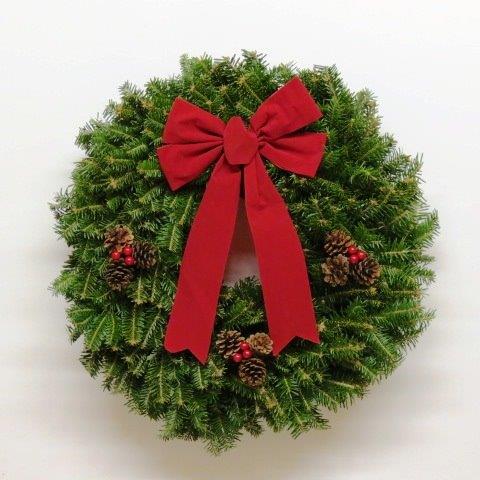 Our Christmas Wreaths and Greenery are handmade from lush Fraser Fir and Balsam Fir boughs. These Christmas Wreaths are tastefully decorated with a festive, red velvet bow that accents this rustic, hand-crafted creation perfectly. Enjoy the deep green and silver accents of the finest Fraser Fir boughs in the Blue Ridge Mountains and fragrant aroma that only comes from a freshly harvested Fraser Fir and Balsam Fir.
Hand-Crafted, With Love in Cedar Grove, NJ USA
Christmas Tree Care Kit
Our Christmas Tree Care Kits are a simple, all inclusive package that offers everything you need to keep your Christmas tree healthy and the clean up simple and stress-free.
Care Kits include: 1 White removal bag, 1 Granular packet of Tree Life Nutrient and 1 Static cling "Reminder" to water your Christmas tree.
Made in Wisconsin, USA
Balsam Fir
For many, Christmas isn't Christmas without the undisputed King of all Christmas trees. The Balsam Fir has been in commercial production for nearly 100 years and is still the dominant Christmas tree in the Northeast United States. The Balsam Fir is known for it's strong aroma. It is the distinct smell that many associate with Christmas trees. Our Balsam Fir are sourced from the premier grower in New Brunswick, Canada and the close relationship we have with this family farm translates into the absolute highest quality Balsam Fir Christmas trees and wreaths found anywhere. Sheared by hand to achieve the highest density, our Balsam fir meets or exceeds all USDA standards in all categories.
Proudly Grown in New Brunswick, Canada
Fraser Fir Christmas Tree will be the centerpiece of your holiday memories! Grown above 3000 feet in the Blue Ridge Mountains of North Carolina and delivered fresh to our retail location within days, not weeks of it's harvest, affording our customers a fresher tree then anywhere you can buy locally. Known for their excellent needle retention, sturdy branches, strong aroma, and blueish-silver needles, the Fraser Fir is considered to be the most exclusive Christmas tree grown in North America. Our trees are grown in the most environmentally responsible manner possible without the use of harsh herbicides, pesticides, and synthetic fertilizers. Our Fraser Fir have been sheared by hand, to ensure heavy density and a picture-perfect shape that meets or exceeds the USDA standards in all categories.
Proudly Grown in North Carolina, USA
Mini Fraser Fir "Charlie Brown Tree"
Our Beautiful 30-42'' Fraser Fir Christmas trees have been carefully cultivated and freshly cut from our farm located in the Blue Ridge Mountains of North Carolina. These Fraser Fir trees are already attached with a tree stand.
Our "mini" trees look great in your home or office and they make a great accent for any room. Create new family traditions when placed in children's rooms. They make a perfect Holiday gift for those with limited space or those with a knack for decorating.
The smell of freshly cut Fraser Fir is unlike any in the world. Fill your home with the sights and smells of Christmas Holidays past.
Proudly Grown in North Carolina, USA
The Cinco Christmas Tree Stand is designed to hold trees up to 8' tall and 6" diameter trunks. The low-wide reservoir accommodates low branches and holds 1 gallon of water to keep trees fresh and safe. A spill guard prevents over-filling mishaps. Over 4 pounds high-impact polypropylene make up the stand body to assure durability and reliability. Steel spikes in center of reservoir anchor tree, preventing shifting and making set-up a snap. This is the last tree stand you'll ever buy!
Made in Texas, USA.